Professional
Web Design Services
Get a professional website for your business,
the way you want it








Stunning, Effective Web Design in Just 5 Days
WordPress is the best content management system in the world. You can build any type of website using WordPress. WordPress gives you the best option for building customizable websites. You can choose from an endless option of themes, and the plugins make it possible for you to add more functionality to your website.
We design your websites using WordPress. We are highly skilled at this and we believe WordPress is a great option for you.
Let us build a website that will help
grow your business, this is what we do!
The #1 Premium WordPress
We have an in-house team of WordPress designers and WordPress developers to make your website best-in-class.
CMS Experts
No matter the CMS, we're experienced building a website that is easy to use and easy for you to manage.
Is WordPress The Best Choice?
Based on your needs and requirements, WordPress is the best choice for your website. It's extremely flexible.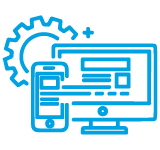 Standard WordPress Website
Most Popular Frequently Asked Questions
How long does it take to build a website?
We'll build you a stunning website for your business in 5 days based on your selected pattern layouts. Make sure you upload all the page contents to be used on all the pages to avoid delays.
How much does the website cost?
The website package cost $549 only. One time fee
Do I have to pay for updates?
After we launch your website, you have 1 month FREE maintenance including updates. If you would like us to continue the maintenance for your website. You may select a plan on our website maintenance services
Can I see my website while it's in progress?
Of course you can! While working on the website, we provide you with a username and a password so that you can check the progress of your website. Your feedback and suggestions are always welcomed as we truly believe in satisfying our clients.
Can I make changes to my site without additional cost?
Based on the selected website pattern layout and after we launch your website. Yes, you  can make any changes or edit as long as you want without any additional cost. But if, you would like us to manage the maintenance services of  your website, we can do it for you. Click here.
Can you help me update my existing website that another web firm built?
Yes, we can. Just select which pattern layout template you prefer for your website then fill up the form, answer the questions and add to cart.
When will I get the copyrights of my website?
Once the development of your website is complete, we will deliver the website to you and transfer the copyrights.
Do I own my website?
Definitely! Your website will be owned by you by all means. Our team will assist you in doing that in the most effortless and efficient way. Please provide us your c-panel details and we will load the files.
What are the benefits of a Website?
The benefits of a website design template are:
Build your website in just 5 days
Professionalism for your business
Flexibility with changes to stay current
Ranking better on search engines
Standing apart from your competitors
Customer Support
Website Security
Is hosting included?
The hosting is not included in the package. But, we recommend A2 Hosting company which they provide an excellent customer support, security and latest PHP version. They have discounted shared hosting plans which a free domain
Can I use my own domain name?
Yes, as part of your plan you can use your website with any custom domain (e.g. www.mydomain.com).
If I have questions, is there someone I can talk to?
Yes, send a request Callback or chat with us online. Our customer support representative will get back to you soon.
Want ROI-Driven & Optimize Website?
Contact Our
Web Expertise Team Now!
If You Are Interested in Speaking with Our Customer Support Representative About an Upcoming Project, Give Us A Call Right Away. Let's Connect and Straighten Out Your Question Marks Forthwith Once and For All.